Jodie Filiatreau: Artisanal Distiller & 'Just a guy from Bardstown'
It might surprise you to learn that the pot still system at the Evan Williams Bourbon Experience yields just one barrel of new make whiskey per day.
"It's fully hands on for all of us," says Filiatreau, who became Artisanal Distiller at the Evan Williams Bourbon Experience in late 2017. "It's an eight—day process for every barrel we make, which is probably more work than most imagine."
Filiatreau's Start at Heaven Hill
Filiatreau had next to no idea how much work was involved in distilling when he applied for a job at Heaven Hill in 1981.
"All I knew about distillery work was it was steady work, which was what I needed as a 20-year-old," Fileatreau says. "So I took my uncle's advice and asked Max Shapira for a job."
Shapira, then Vice President and now President of Heaven Hill, wasn't directly involved in hiring new workers and thus was surprised when Filiatreau came to see him. After exchanging a few pleasantries with his visitor, he sent the newly emboldened Filiatreau on to human resources, where he told the HR manager, "'Max Shapira sent me back here to talk about getting a job,'" and they said, 'He did?' I said, 'Yes, he did.' And that's how I got on at Heaven Hill."
Filiatreau served in multiple roles at the company, from warehousing to bottling at the distillery in Bardstown, Kentucky. At a couple of posts along the way, he met Charlie Downs, the man who would become his distilling mentor when the company opened the Evan Williams Bourbon Experience in Louisville in 2013.
"To work beside a guy like Charlie for all those years—including almost every day for four years—not many people get a chance to learn on the job like that," Filiatreau says of the former Artisanal Distiller. "Filling his shoes means I'm carrying a lot of tradition on my shoulders."
To outsiders, learning to make a single barrel of whiskey each day may seem quaint when compared to the nearly 1,300 filled daily at our Bernheim facility, but Filiatreau insists it's a job requiring full engagement.
"We drop in our grain by hand, hydrate and put in our yeast in by hand, clean the fermenter and cooker by hand, and run the stills—all by hand," Filiatreau says. "When I say it's a hand—crafted Bourbon, I'm telling you the truth."
At an hour when many haven't had their first cup of coffee, Filiatreau is pumping low wines from the prior day's stripping run to the whiskey still, where it's heated slowly to initiate gentle evaporation. Another crewman agitates fermenting mash and, if it's finished, pumps it to the beer still for that day's stripping run. Left behind is an empty fermenter needing cleaning, sterilizing and refilling with freshly cooked and cooled mash. Meanwhile, that day's new make is coming off the still and being checked manually for proof and tasted frequently.
Working at Evan Williams Bourbon Experience
"You have to multitask a lot in this job," Filiatreau says. "The first five hours of the day are the busiest for us, just one thing after another."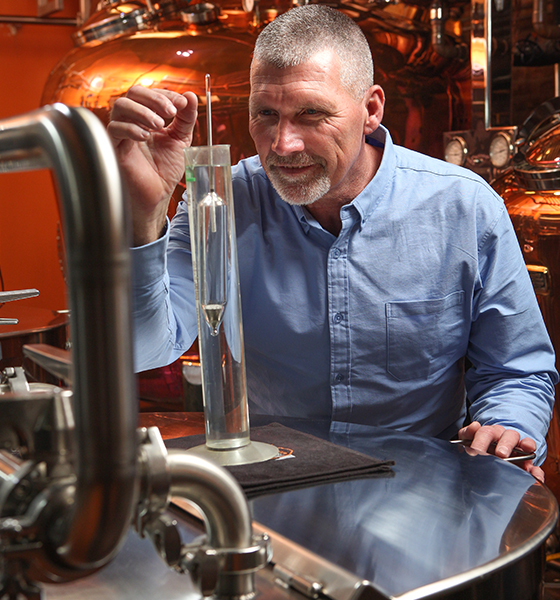 When all is running perfectly, it's easy to think "anyone can distill whiskey," Filiatreau says. But on those days when problems arise "is where you earn your money. You have to figure out how to fix those pretty dang quick."
Opening day at the Evan Williams Bourbon Experience presented one such trial. A batch of finished mash he was trying to move from the fermenter to the beer still was stuck in the pipeline, and knowing where the problem lay, Filiatreau steeled himself for a shower in the gritty, sour liquid.
"I just thought, 'Man, this is going to be nasty, it's going to be ugly,'" Filiatreau says, laughing. "So, I just did it, opened the check valve, let it splash me, wiped off the best I could and kept on with the night."
Meeting the Fans
As a tourist-centered distillery, the Evan Williams Bourbon Experience also exposes Filiatreau's team to Bourbon fans from around the globe. Filiatreau says he thrives on that interaction because it reminds him how much people appreciate the whiskeys they make. But nothing surprised him more than the star treatment he received on a 2017 trip to New York City for WhiskyFest. Not only was it the Kentuckian's first trip to New York, it was his first glimpse of Bourbon's devoted and diverse fan base.
"I was fascinated to see that many people so worked up over Bourbon!" he says. "What's been my work for 36 years leaves that many people so excited … it still blows me away!
"When somebody there wanted to shake my hand or somebody on a tour wants me to sign a bottle, I'm still thinking, ' I'm just a guy from Bardstown who makes whiskey.'"
To find out more about the Evan Williams Bourbon Experience and to plan your visit.